Well-maintained docks deliver years of safety, fun and attractive waterfront views. EZ Dock owners can relax knowing they've invested in a lasting floating dock that requires little upkeep. While you can expect your EZ Dock to last you many years, investing in regular maintenance will help extend its life span and get you the most usage out of your dock. If you're wondering how to make your dock last longer, use our dock longevity tips to maintain your dock for years.
How Long Do Docks Last?
A standard pressure-treated wood dock will only last around 10 years — not to mention the upkeep and maintenance necessary to keep it functional in that time. Wood docks will naturally rot and mold with exposure to water, while other metals can corrode with long-term saltwater exposure. Using standard dock materials will only get you so far if you want to increase your dock's life span.
EZ Dock floating dock systems are highly durable and long-lasting. EZ Docks are made from solid and weather-resistant materials and can last anywhere from 40 years and beyond. Anyone looking to maximize their dock usage and life span should invest in proper EZ Dock care.
7 Tips to Increase the Life of Your EZ Dock
While your high-quality polyethylene EZ Dock, you'll enjoy years of safe, lasting water access. Whether you use your dock for fishing, boat docking or recreational purposes, you must take care of it. While EZ Dock dock systems are designed to last years, you still need to take care of them. Proper maintenance and use protect your EZ Dock from early wear and ensure you maximize your dock investment.
Using your EZ dock correctly, along with some regular maintenance, will help extend the life of your boat dockand increase your EZ Dock enjoyment.
1. Don't Overload Your Dock
Overloading is a common reason for early dock deterioration. All docks have a set weight capacity — regularly loading your dock past this capacity will weaken the structure and reduce its life span. Too much weight puts unnecessary strain on your EZ Dock, causing the structure and support components to weaken over time. Always check to ensure you're staying under the dock's weight capacity. Make sure large gatherings, boats and personal watercraft (PWC) have total weights that do not exceed your dock's capabilities if you want to make your boat dock last longer.
2. Consistent Upkeep
Regular maintenance is crucial for improving dock longevity. EZ Dock floating dock systems are made from durable polyethylene and recycled rubber — this means your dock will require minimal maintenance during its life. However, you still need to regularly check your EZ Dock system to ensure everything is in good condition. Look for worn or damaged components, bends, missing sections and anything else that is out of place. The earlier you spot an issue, the less impact it will have on the rest of the dock.
Additionally, look for signs of mold, rot or pest infestations — mold and rot are not a common issue for EZ Dock systems, but any other dock pieces you have that are wood can mold and rot. Polyethylene EZ Docks won't rot like wood, but any non-EZ Dock furniture, decorations or add-ons might have these issues crop up.
3. Remove Your Dock in Winter
If you live in an area that sees snow — like New Jersey — it's best to remove your dock from the water during winter. Ice can cause significant dock damage by expanding and contracting with the freeze and thaw cycle. Keeping your dock out of freezing temperatures is an excellent way to prevent damage. The more ice expands and contracts in and around your dock, the higher the chances of cracks and structural weakness. One of the advantages of an EZ Dock floating dock is its convenient removal process. You can easily remove and store your dock during winter to protect it from ice damage.
4. Clean Your Dock
Another key tip to extend the life of your dockis cleaning. Cleaning your dock is one of the main ways to maintain your EZ Dock while you have it. Since EZ Dock floating dock systems are UV-resistant and highly durable, they don't require heavy cleaning or repainting like other docks. Instead, you need to occasionally clean your dock to maintain it. Remove debris, leaves and marine life build-up — this build-up can lead to slips and safety issues, so use regular cleaning to prevent it from harming your dock.
Remember to always use water or marine-grade cleaning solutions on your EZ Dock. Harsh chemicals can harm marine life and the environment quickly. You'll enjoy your dock and the local wildlife longer with environmentally-friendly cleaning tools.
5. Check the Alignment
Proper dock alignment is critical for ensuring dock safety and stability. You should regularly check your EZ Dock for signs of misalignment — ensure it's level and straight. Unlevel docks are not as structurally sound as they should be. Additionally, inspect the rubber connectors to ensure they're in good condition. You want your dock to be level and secure to maximize safety and longevity. Finally, periodically adjust your dock's position to accommodate shifts caused by soil erosion or changing water levels.
6. Use Protective Accessories
Protective accessories like bumpers and cleats can extend your dock's life span. Installing fenders and bumpers helps cushion boat and PWC docking impacts and prevents damage to the dock edges. Place plastic or rubber pads between the dock and structures like PWC or boats to minimize wear and tear. Cleats hold your vessels securely to the dock without putting extra strain on the existing dock structure. Reducing watercraft bumps and scrapes will keep all your docks and boats in better condition so they work longer.
7. Watch the Weather
Weather and other environmental conditions can significantly impact your EZ Dock. While the EZ Dock floating dock system is highly durable, extensive exposure to severe weather can lead to a shorter life span. Pay close attention to the weather, especially if you live in areas with severe storms like Florida. Extreme winds and water can cause serious dock damage. If you notice a big storm coming, secure any loose items and watercraft to prevent damage to the dock and surrounding area. Consider bringing your dock in if the weather looks severe enough.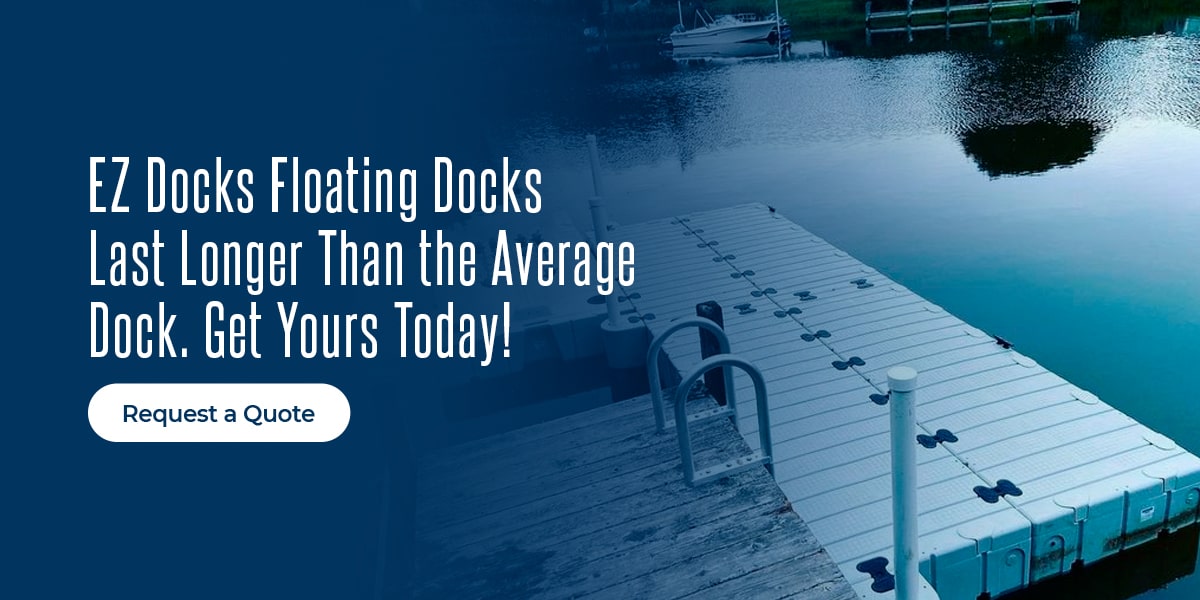 EZ Docks Floating Docks Last Longer Than the Average Dock. Get Yours Today!
Taking care of your EZ Dock helps to ensure its longevity and protect your investment. If you want to enjoy your high-quality floating dock for decades safely, you must take time to protect it. While other docks require more extensive maintenance, EZ Docks floating dock systems use highly durable polyethylene.
To elevate your waterfront experience with EZ Docks, contact us online today!