Welcome to the EZ Dock FAQ page. We've compiled these answers to common questions to proactively offer the level of five-star customer service you expect from EZ Dock. Learn more about our customers' common questions regarding their EZ Dock ports!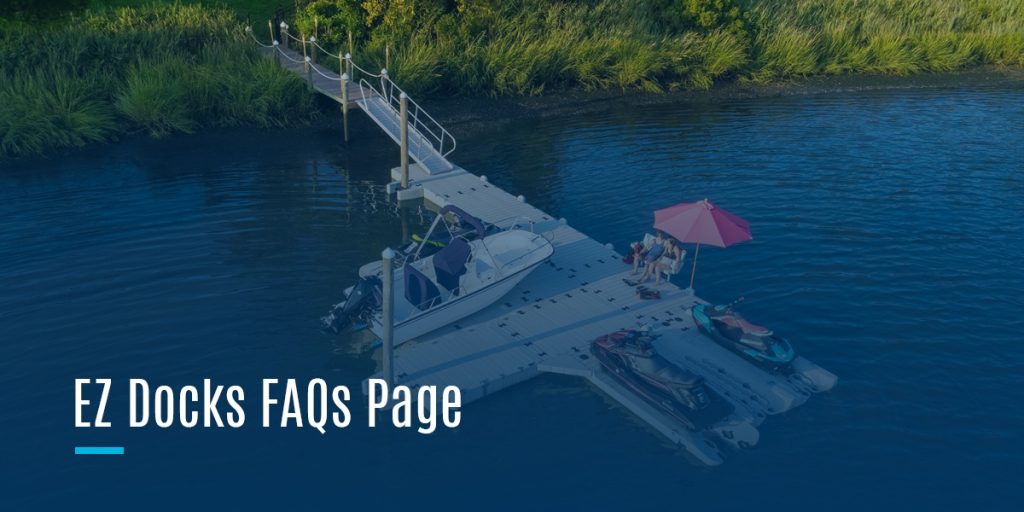 How Does a Floating Dock Work?
A floating dock is a hassle-free alternative to a fixed wooden dock. Your lightweight modular docks will rise and fall with the water level. You can install the port so it is permanently fixed or removable depending on your preference.
Is EZ Dock Easy To Assemble?
EZ Docks are easy to assemble. Once you've selected your dock and layout, you can install the dock in a single day with a helper. The tools you'll need include:
Hammer
Ratchet
15/16-inch wrench or socket
Phillips head screwdriver
You'll also need a specialized in-water coupler installation tool and coupler nut tool from EZ Dock.
What Makes a System ADA Compliant?
The Americans with Disabilities Act (ADA) ensures people with disabilities have the same rights as others by making facilities safe and accessible. In 2002, the United States Access Board created modern guidelines for boating facilities. For example, ADA compliance requires secure dock edging and a smooth ramp transition free of bumps.
The EZ Dock system can be configured to meet these standards with a water channeling system, slip-resistant grid patterns and universally accessible ramps, gangways and railings. Learn more about our NMMA-recognized EZ Launch® Accessible Transfer System.
How Do I Know What Port Will Fit My Ski?
Each EZ Dock PWC and jet ski dock has specific parameters for supporting vehicles of different shapes and sizes. We have several models to fit any shape, size or model of PWC. Here are a few examples:
EZ Port VXP: The EZ Port® VXP is compatible with any brand of shorter-end PWC with a weight of fewer than 1,300 pounds.
EZ Port2i: The EZ Port2i has a self-adjusting design that supports any PWC shape and carries loads up to 1,700 pounds.
EZ Port MAX System: The EZ Port MAX has a modular system that can accommodate several PWC enthusiasts and adjust to fit varying sizes and weights.
You can download our brochure or contact our customer service team with any questions to learn more about product sizing.
What Is the Warranty for My Dock?
We are proud to offer the best warranty in the industry to ensure our customers the peace of mind they need. Most EZ Dock products come with a ten-year limited warranty that protects against defects in the material or manufacturing quality of the dock sections. In addition to the dock units, all hardware and accessories are warranted for material or workmanship defects for one year from purchase.
If you need service or need to request a warranty replacement, our extensive distributor and dealer network will make the process hassle-free, quick and easy. Proof of receipt is required and shipping and labor charges apply. Ask us for more details about our warranties.
How Long Will My System Last?
The EZ Dock system has a trailblazing design manufactured for extended use. The EZ Dock's extremely durable, flexible polyethylene material is UV and wear-resistant. The single-mold sections have 3/8-inch-thick walls that help the dock maintain its shape. This construction also provided support for added stability. Experts who have tested the EZ Dock found that the lowest estimated lifetime for the product is 40 years, while the highest potential life span is over a century.
What Kind of Maintenance Is Needed for My Dock?
EZ Dock is a low-maintenance solution. Our floating docks require very little maintenance because of the thick, marine-grade UV-stabilized polyethylene material. Natural rain should keep the dock clean, although washing the deck with marine-safe soap and water or a pressure washer on occasion can keep your dock looking new.
Do You Offer Financing Options or Payment Plans?
Yes! We are excited to partner with SweetPay for financing options. Learn about your financing options and apply today.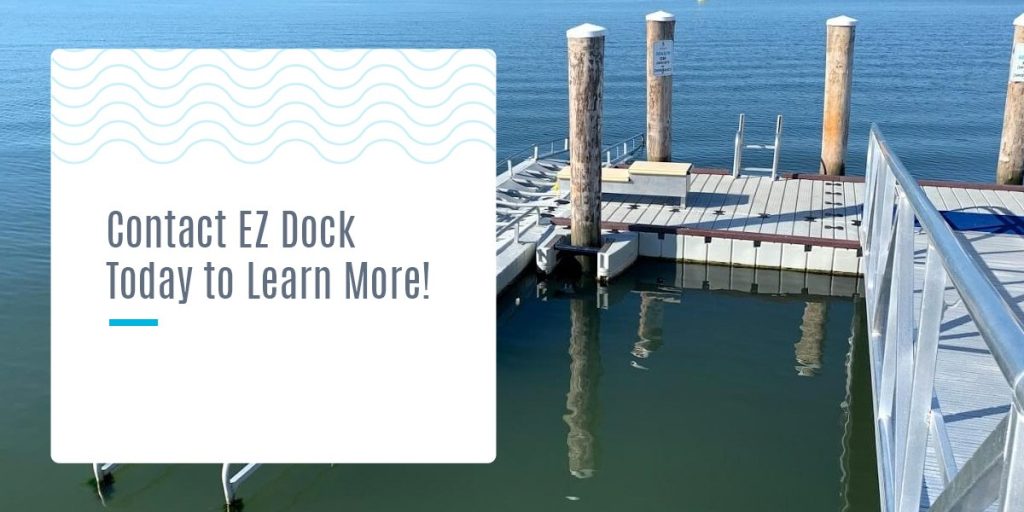 Contact Us for More Answers
Do you have a question not listed here? Check out the corporate EZ Dock FAQ page to see answers to other common questions.
Get all the details you need from our helpful team before making a purchase. Contact us today to learn more about our long-lasting and easy-to-install EZ Dock floating docks!