EZ Docks Serves a Variety of Commercial Needs:
Restaurants / Retail Waterfronts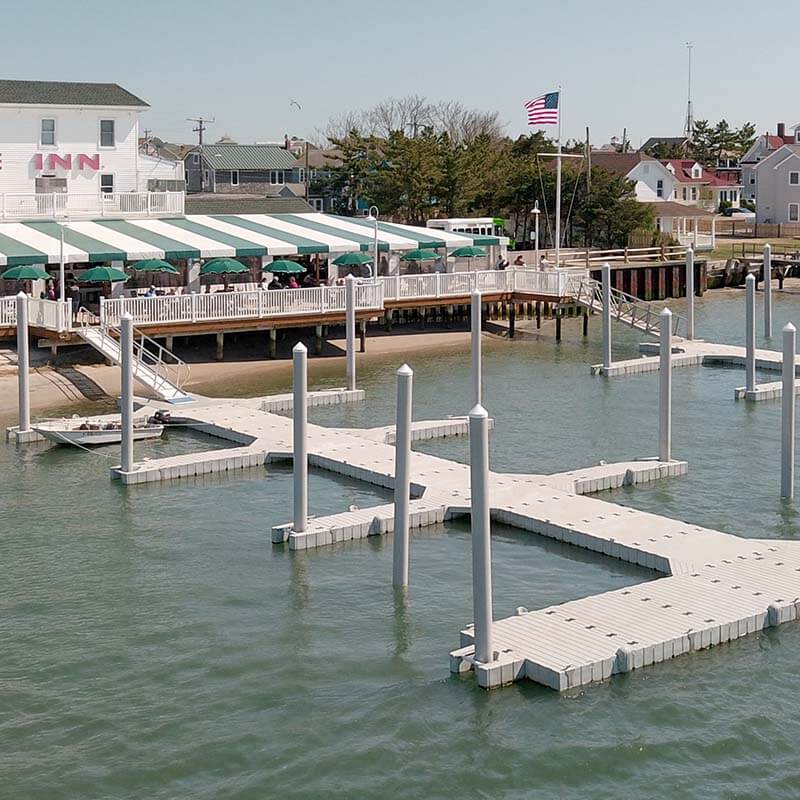 Docks, Boat Slips, Ports, and Lifts for Marinas
Swim Platforms and Swim Lanes for Camps
Rowing Docks for Schools/Universities
Make the most of your shorefront business with our durable, modular floating dock systems. EZ Docks will help you create the perfect dock design for your commercial applications, from restaurants to housing developments.
We'll work with you to create a premium, custom dock system that will improve property value and provide an unforgettable experience for customers.
---
EZ Docks Commercial Dock Applications
EZ Docks commercial docks are suitable for all commercial industries and applications, including:
Housing Developments or HOAs: Enhance your residents' living experience with an accessible way to facilitate fishing, kayaking, swimming and more!
Restaurants: A slip-resistant dock creates a safe dock & dine option that provides customers with a pleasant shoreline dining experience.
Hotels and resorts: A lake or beachfront hotel or resort is incomplete without a modular floating dock system. Our custom docks offer the necessary features and ports to enhance your guest's waterfront activities.
Boat docks and marinas: EZ Docks has low-maintenance docking system solutions for anchoring and lifting boats. Our docks last longer than fixed, treated wood docks because of the nontoxic polyethylene.
Benefits of Our Modular Floating Docks
Minimize the barriers between your customers and the water with our custom docking sections and configurations. We can help you find and arrange the ideal dock system for your business or commercial area.
Your modular, easy-to-install commercial floating dock includes the following advantages:
Convenient access: Our ports offer easy, accessible loading and unloading of PWCs, kayaks and other water vessels. We offer safety and accessibility features to enhance your visitor's experience, including storage boxes, benches, ladders and dock bumpers.
Durable materials: Our modular floating docks require minimal maintenance for salt and fresh water environments. The hardwearing, UV-stabilized polyethylene dock material does not splinter, crack or wear down over time. The dock sections also move independently, allowing them to detach for storage during off-seasons and storms.
Customizable styles: Our docks are fully customizable to include the sections and features you need for a functional modular docking system. Our rectangular, L-shaped, T-shaped or F-shaped sections create unlimited configurations for your unique commercial applications.
Improved safety: Our modular floating dock systems are ADA-compliant with a slip-resistant grip pattern on the surface, so visitors can safely walk across the dock barefoot. The grooves in the dock's surface also drain standing water so visitors can keep their feet dry.
Contact Us Today to Learn More About Our Commercial Docks
Whether you own a beachfront restaurant or need the perfect loading and unloading system for kayakers, EZ Docks has you covered. We'll help you make the most of your business' water's edge location by helping you create new commercial docks. Our modular floating docks are rugged and versatile to fit all commercial market applications.
Contact us today to learn more or request your free quote!
EZ Dock Commercial Uses:
Learn more about our Rental Services.
Commerical Project Gallery: