Are you looking for an easy and convenient way to store, launch, board and recover your kayaks? EZ Docks, a leading manufacturer of advanced boat docking and launching systems and equipment since 1991, can provide the ideal product for your needs.
We offer a wide range of innovative kayak storage racks and floating docks that are flexible and easy to use, regardless of your experience level. Check out our kayak storage ideas below.
1. EZ Launch
The EZ Launch product line features an advanced series of one-piece docking systems that provide maximum stability when boarding or getting out of a kayak or canoe. EZ Launch can adapt to changing water levels, making it suitable for use on all types of water bodies. The wider, V-shaped entry center ensures smoother, more consistent launches.
Other key EZ Launch features include:
Integrated paddle notches that ensure safe, easy launching and docking.
Seamless connections that simplify installation and allow you to attach the launch to almost any standing or floating docking system.
A wider format that assists with launching an array of vessels, including stand-up paddle boards, kayaks and canoes.
Ease of use for beginners and more experienced boaters.
2. EZ Launch Drive Through
This basic kayak storage system was the first of its kind to be designed and built specifically for paddlers. The floating system is simple and safe to use, even for novice kayakers and canoers. You can choose from small, large and ADA options to meet your particular needs.
3. EZ Launch Drive Through ADA
This revolutionary transfer bench system makes boarding, launching and recovering a kayak an easier task for people with disabilities. Specially designed rollers and guide rails enable users to safely "glide" on and off the vessel. The ample space on either side promotes access and stability. This system also complies with the requirements of the Americans with Disabilities Act (ADA).
4. EZ Launch Drive Through Large
This larger EZ Launch version provides the flexibility to launch a canoe or kayak from either side of the watercraft. The innovative aluminum rails extend over the water, allowing you to push or pull the boat easily. Paddlers of all experience and skill levels can access the vessels when launching or docking.
5. EZ Launch One-Way
If you prefer launching your vessel by pushing it forward, this EZ Launch system option enables you to accomplish the task quickly, efficiently and safely. Its aluminum rails extend over the water, allowing you to guide your kayak or canoe into the water body with ease.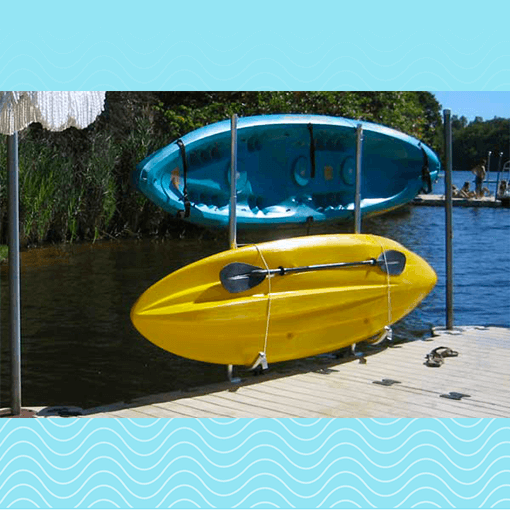 We offer kayak stands that can accommodate vessels to meet your storage needs. Racks provide a space-saving solution when docking your vessels and help prevent damage and theft if secured with a lock.
Offset racks give you another option for storing one or two kayaks. These freestanding racks weigh only 14 pounds, making them easy to transport and assemble.
8. Best Kayak Dock Accessories
We also offer an assortment of accessories to enhance your kayak docking and storage efforts:
Storage arms: These racks enable you to expand your kayak storage capacity by providing the convenience of stacking multiple vessels vertically. They securely hold the boats at a dock or along the shoreline. The racks weigh only 6 pounds, providing a lightweight, easy-to-use solution.
Transfer slide bench with grab rails and signage: Kayakers with disabilities and others can use these benches to enter and exit the vessel safely. Users can sit, slide over and lower themselves into the boat and use the rails to back on or pull off.
EZ Kayak Launch Extension Rail: Use this rail to simplify the process of porting two-person kayaks, canoes and stand-up paddleboards.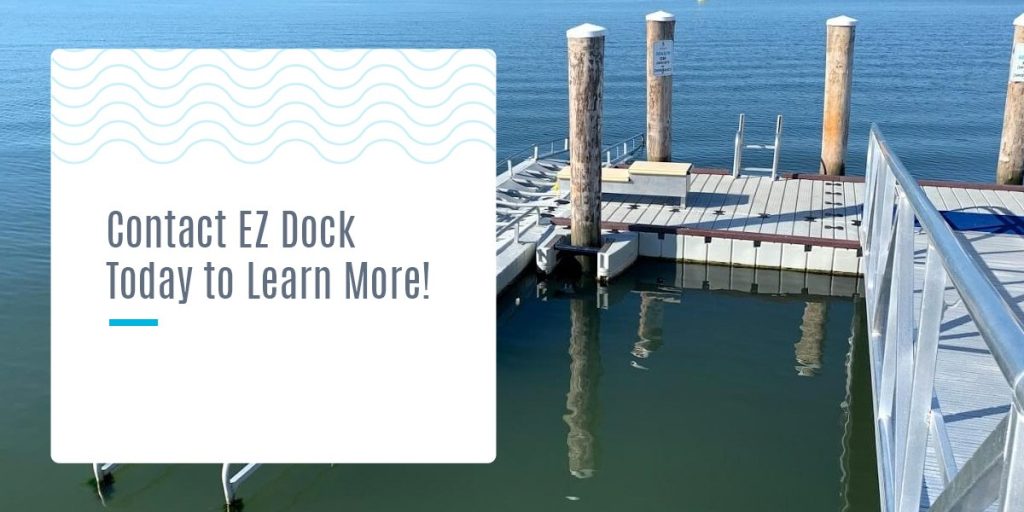 Why Choose Us for Kayak Storage and Docking?
At EZ Docks, our goal is to provide long-term solutions that maximize waterfront space and access in an environmentally sustainable way. Since our founding in 1991, we've strived to offer boating products and equipment that deliver longevity, low maintenance and modular designs that meet the needs of residential kayakers, marinas, parks and recreation departments and government, industrial and commercial entities.
Check out our products to learn more about how they can benefit your kayak storage and docking needs. Call us at 800-654-8168 or submit our online contact form to request additional information today.