EZ Docks modular floating dock systems help you enjoy your lake or beachfront home with durable, low-maintenance and modifiable modular floating docks. Whether you enjoy shorefront fishing, boating or soaking up the sun on your PWC, EZ Docks has residential docks and launching systems to make your waterfront activities more accessible.
Make the most out of your waterfront. Our endless EZ Dock configurations can help you achieve the waterfront of your dreams.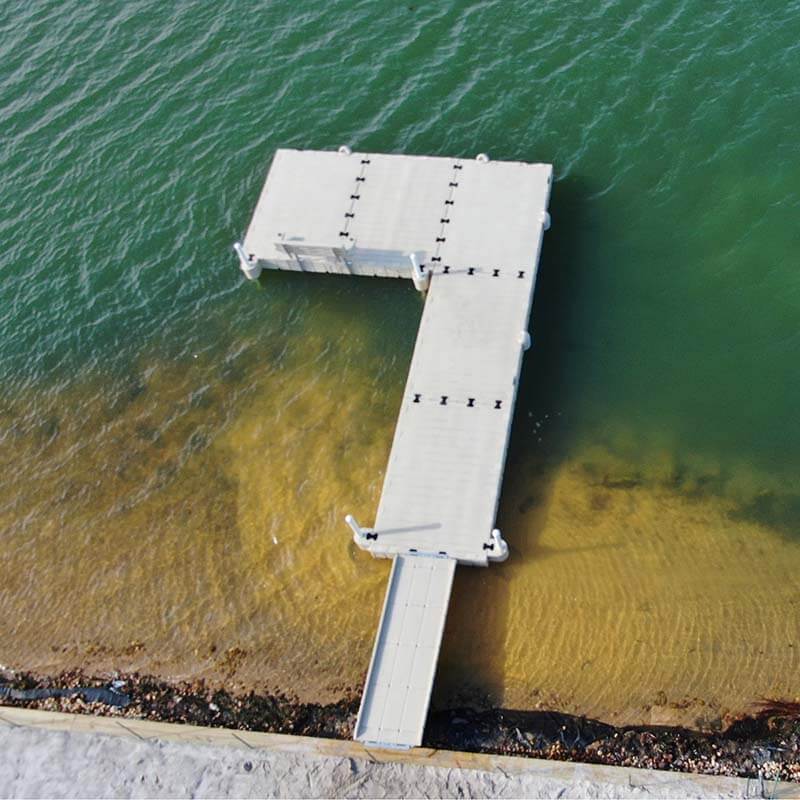 Swim / Fish Platform
Enjoy easier access to your water with our EZ Dock sections. EZ Dock self adjusts with the tide and is compatible with swim ladders to help you get in and out of the water.
Boat Port or Boat Lift
EZ Dock has a variety of Boat Ports and Boat Lifts to help accommodate most boat hulls and sizes. The ports and lifts help keep your boat looking like new by keeping the hulls out of the water. They also allow for easier access to your watercraft.
PWC Port for Jet Skis and Small Watercrafts
The EZ Dock Ports are available in different styles to accommodate skis and watercrafts of various sizes and weights.
Kayak / Canoe Launch
Take the hard part out of getting on the water with the EZ Kayak Launch. The EZ Kayak Launch helps keep your canoe or kayak steady when getting in and out to help keep you dry.
EZ Docks Residential Dock Applications
Complete your waterfront home with a customizable, private home dock, no matter your favorite water activities! Learn more about some of our most popular EZ Dock floating dock system applications:
The Benefits of EZ Docks Modular Floating Docks
Our floating docks are barefoot-friendly, low-maintenance and easy to modify. Some of the core benefits of an EZ Docks floating dock system include the following:
Durability: Made from UV-resistant, low-density polyethylene material, your modular floating dock components are flexible and move independently to withstand the toughest currents. The modular components make removing and storing your dock parts easy during severe weather.
Low-maintenance: We make it easy for you to maximize your time on the water by reducing maintenance needs. Forget about pressure-washing or painting — your UV-16 protective polyethylene dock is resistant to splintering, staining or fading.
Versatility: Enjoy limitless possibilities for dock configurations with our modular floating docks. Choose from several dock shapes, sizes, watercraft launching systems and accessories to create the perfect port for your loved ones' favorite waterfront activities.
Contact Us Today Today to Learn More About Our Residential Docks
Enhance your vacation home's accessibility to the water with a floating dock system the entire family will enjoy. Choose from hundreds of configurations and accessories to make your private home dock your own — no matter the water activities you and your loved ones routinely enjoy. Our residential docks are long-lasting, low-maintenance and completely customizable to suit all of your unique residential dock applications.
Contact us today to request a quote!
Residential Project Gallery