If you are considering a new dock for your shoreline, it is important to differentiate between the available options to find the right fit for your needs. Depending on your preferences and applications, you can choose between wood or plastic docks. Consider each material's key characteristics to figure out which one is best for you and your body of water.
Explore the differences between wood and plastic decking materials to find the most suitable option and start making the most of the water near you!
Wood vs. Synthetic Floating Docks
When comparing dock and decking options, different materials may be more suitable for your shoreline and preferences. Regardless if you go with wood or synthetic options, choosing a floating dock can be very beneficial. Their buoyancy makes them ideal for fluctuating water levels and tough conditions.
In addition to wood and synthetic options, there is also composite decking made from a blend of both plastics and wood fibers. When you choose this type of decking, you enjoy low maintenance and durability for years.
Wooden Floating Docks Overview
Treated wood is one of the most common decking options. You can integrate floating wooden docks into your existing wooden pier for a cohesive look. When deciding if wood is the right option for you, consider the following:
Costs: The average cost of lumber often fluctuates with the season and economy. Price is also associated with the type of wood used for the dock.
Durability: If your dock is constructed with pressure-treated lumber, it should last for about a decade with regular maintenance and attention. Tending to out-of-place nails and splintering can help elongate the dock's life.
Versatility: When working with a lumber dock, you can reconfigure and install additional custom structures with ease. Wooden options are very versatile, and you can reconstruct them to suit your shoreline.
Maintenance: Regular upkeep is important for wooden docks. Painting and sealing the surface can help keep the structure looking its best and remaining structurally sound. You'll need to tend to weak or degrading sections and refinish it every few years to keep it in its best condition.
Environmental impact: Lumber is a renewable resource and often less harmful to the environment than other materials. However, when dealing with treated wood, it is important to abide by all standards outlined by the United States Environmental Protection Agency for dock preservatives and chemicals.
Plastic Floating Docks Overview
Plastic decking is another common material for floating swimming and boating docks. This is an innovative and long-lasting choice that works well for both residential and commercial applications.
In addition to causing less damage to boats and personal watercraft than other materials, there are many benefits of plastic docks. Consider the following characteristics before purchasing a plastic dock for your shoreline:
Costs: Plastic decking and docks are often highly durable and portable, making them a very cost-effective option. Their low maintenance requirements can save you money over time.
Durability: One of the greatest parts of having a plastic floating dock is its toughness and strength. They can withstand different conditions and water environments without rotting or decaying.
Versatility: A plastic dock can expand and reconfigure to meet your shoreline's requirements. They are often portable and easy to redesign to adapt to all your needs.
Treatment: An advantage of choosing a plastic dock is not having to worry about treating the surface to maintain its durability.
Maintenance: Plastic decking and docks are typically low maintenance. A heavy rainstorm can effectively wash away dirt, and you can easily replace any damaged parts.
Environmental impact: As long as a plastic dock is installed correctly and free of any dangerous chemical coatings that can leach into the water, they are usually environmentally friendly and do not disturb wildlife.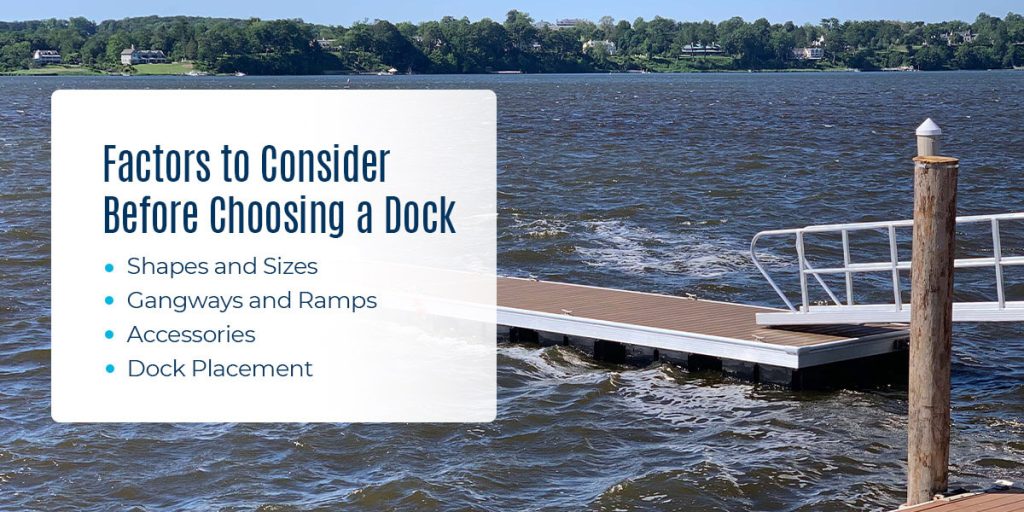 Factors to Consider Before Choosing a Dock
Consider the following factors when picking out your dock:
Shapes and Sizes
Some of the most important factors to consider are the dock's size and shape. Make sure you consider all the uses for your dock and decking before making your buying decision. Options vary, depending on the material you choose, but you could choose an L-shaped, T-shaped or single-line layout. Modular floating docks are ideal because they let you mix and match sections to rearrange your dock as needed.
Choose a configuration that works with your shoreline. Whether you are interested in creating a solid, rectangular swimming platform or adding a dock section for your personal watercraft or boats, you need to determine the best size and shape for your requirements.
Gangways and Ramps
Another factor to consider is your need for gangways or ramps. These structures can make your dock more accessible.
Gangways include handrails that make walking up and down the structure easier. They provide entry access for fixed or floating docks, and you can customize them to suit your needs. Ramps provide a little less support but give you easy access to your structures when there is only a short distance to walk.
Accessories
When choosing a dock, also remember to incorporate accessories to maximize the use of your structure and make it even more versatile. Accessories include the following:
Dock lights
Benches
Umbrella brackets
Storage boxes
Dock bumpers
Cleats
Ladders
Slides
Lights
Railings
Fish cleaning stations
PWC Leashes
Customizing your dock with these additions is a great way to make the most of your investment. Consider all the ways you plan to enjoy your dock before making purchasing decisions so you can make your dock feel like home.
Dock Placement
Consider the importance of dock placement when selecting the right dock type and configuration for your shoreline. This includes the distance of the dock from the shore and other structures, as well as the water depth and floor conditions beneath it.
Whether you go with a standalone platform or connect it to your existing dock, figure out a configuration that can best withstand water conditions and provides the easiest access to the water from the shore.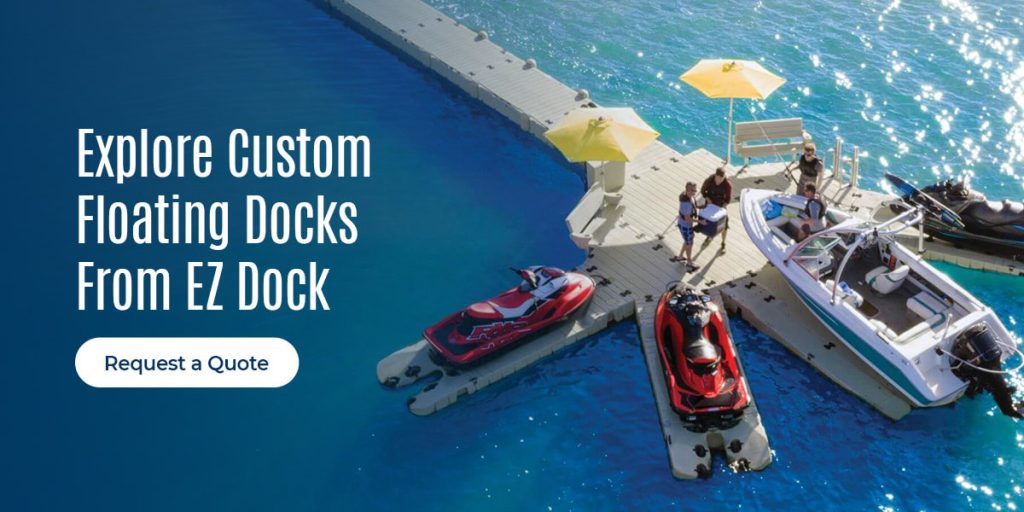 Explore Custom Floating Docks From EZ Dock
No matter what type of material you choose, a floating dock is one of the best investments you can make for your shoreline.
Floating docks from EZ Dock are durable enough to withstand harsh weather without chipping or warping. Whether you are looking for a swimming platform or boat dock, we have the configuration options and accessories to make your dreams a reality. Our docks are suitable for extreme temperatures and built for long-lasting versatility.
Are you interested in a custom residential or commercial floating dock? Request a quote from EZ Dock today!