Despite being named the Sunshine State, Florida is known for having more thunderstorm activity than anywhere else in America. In fact, the state most known for its beloved beaches and tropical lifestyle is actually the lightning capital of the world. While most Florida residents know the drill for protecting their homes when it comes to hurricanes, it's different for boats and docks.
Because they're vulnerable to the elements, it's critical to learn how to protect your boat during a hurricane before it arrives. We've got you covered with our best hurricane protection tips so you can be prepared and stay safe.
When Is Hurricane Season in Florida?
Hurricane season in Florida falls between June 1st and November 30. Within these months, it's imperative to keep an eye on the weather to stay proactive. Because Florida residents are subject to summer rainstorms, tropical storms and hurricanes, your boat could be at risk if you prepare too late. Just as you would stock your house will supplies and put shutters on your windows, proper hurricane boat storage is a matter of planning ahead of time.
Typically, you will have notice of a potential impending hurricane around 3-7 days in advance. Due to the nature of hurricanes, however, the direction and severity of the storm can change from hour to hour, so it's critical to stay informed.
How to Keep Your Boat and Dock Safe During a Hurricane
Your boat is one of your most beloved possessions, so preventing damage or loss is of the utmost importance. However, simply tying up your boat during a hurricane may not be enough. Here are some preventative hurricane tips to keep in mind.
1. Decide Whether to Keep Your Boat in Water or on Land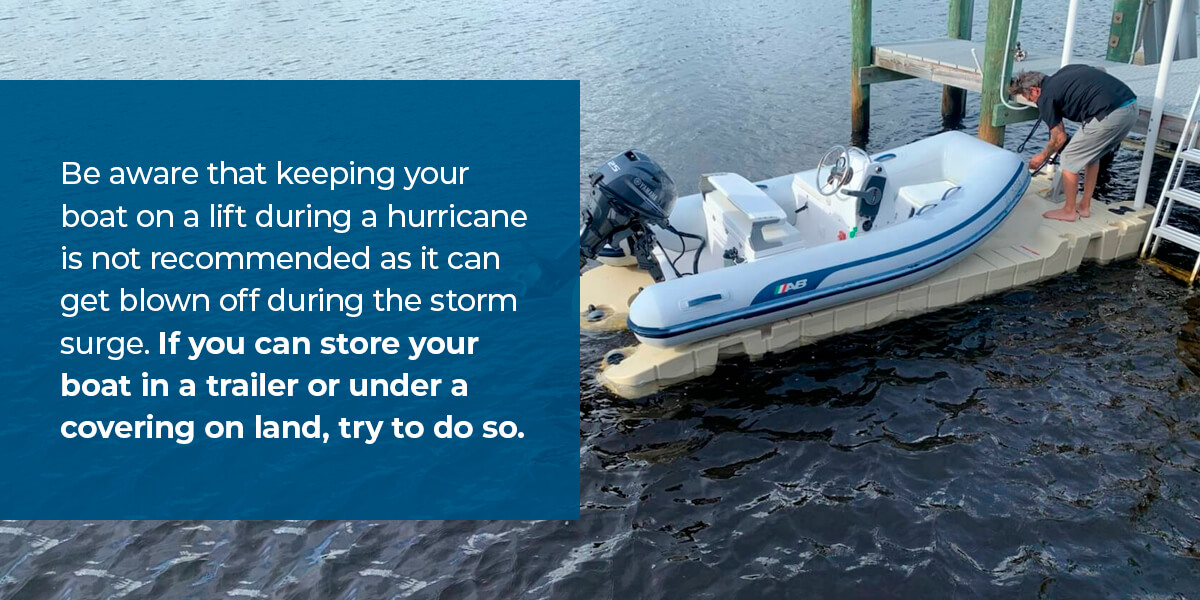 If you store your boat at your home, you must decide whether to keep it secure in the water or bring it on land. The severity of the hurricane, the amount of preparation time you have and your available options can determine your choice.
Smaller, open boats are more likely to be overcome by high winds and large waves. Also, be aware that keeping your boat on a lift during a hurricane is not recommended as it can get blown off during the storm surge. If you can store your boat in a trailer or under a covering on land, try to do so. Moving it as far inland as possible is best.
You'll want to secure your boat as much as possible if you plan to leave it on the dock. Be sure to tie it down, anchor it with several anchors and cover it to prevent items from falling into your boat. You might also want to add boat fenders to your boat if you dock it at a marina or if your neighbors own a boat. Plug your exhaust pipes and cover the vents in your engine room to prevent water damage.
You can protect your dock during a hurricane with a modular floating dock system as you can quickly and easily remove the pieces and store them away. Because floating docks are not permanently attached to the bottom of the lake or canal, they float and adjust to higher water levels. In general, floating docks fare much better during severe storms compared to fixed docks due to their ability to move with the water.
Floating docks also make it easier to secure your boat at the last second compared to fixed docks. This is because your boat and the dock will rise with the water as one rather than only being tethered to distant pilings. If you're concerned about your future ability to protect your boat and dock in the event of an oncoming storm, a floating, hurricane-resistant dock may be ideal for you.
2. Tie Down or Remove All Loose Objects
If your boat is in the water and you don't have the time or means to bring it on land on short notice, you'll want to prevent any items from getting thrown off by high winds. As a general rule, tie down or remove any loose items or personal belongings on your boat and deck. This includes:
Life jackets
Tackle boxes
Fishing rods
Boating accessories or gear
Sunglasses
Coolers
Chairs
Cushions
Shoes
Flags
Towels
Kayaks
Paddleboards
Canoes
Umbrellas
Be sure to take these loose items and store them in a safe location. It's best to tie down items you can't remove, such as doors, windows and storage hatches. You can use rope, zip ties or electrical tape for this. Securing all items on your boat can minimize damage to your own boat and can prevent objects from becoming dangerous projectiles during a storm.
3. Charge Your Boat Batteries
Be sure to check your boat's batteries and ensure they're fully charged. During a hurricane, it's also best to have a backup battery on hand. This is an essential step as the heavy rains and high winds can cause damage to your boat's electrical system, such as outages or short circuits. If the batteries are low, you may have a harder time keeping the power on. If you have time before the storm, test your bilge pump, navigation devices, lights and radio.
4. Keep All Boating Paperwork
As you would with your home or car insurance, making copies of your boating paperwork is critical before a hurricane. Be sure to get your boat insured as soon as possible, if it's not already, and thoroughly read your policy. You may have to meet certain requirements in the event that your boat becomes damaged.
Take inventory of your boat by listing everything inside and on it. Taking pictures of your boat and its content beforehand can also prevent any insurance headaches if your items are damaged or lost in the storm. You should also read through your boat's warranties and make copies of your registration and anything else related to your boat.
5. Stay Alert and Be Ready to Evacuate
Once your boat is secure, it's time to stay indoors or evacuate if you need to do so. Whether it's a Category 1 or a Category Five hurricane, it's critical to have an evacuation plan in place for you and your family. Be sure to listen to the news, check the weather channel and stay alert for any evacuation warnings for your location.
Remember that hurricanes can increase in severity and change course fairly quickly. Even if your local weatherman says there will be minimal flooding, it's always best to prepare your boat and dock anyways to minimize loss. Create a future plan for next hurricane season if you decide to do things differently, such as installing a hurricane-resistant dock.
Get a Sturdy, Storm-Resistant Dock From EZ Docks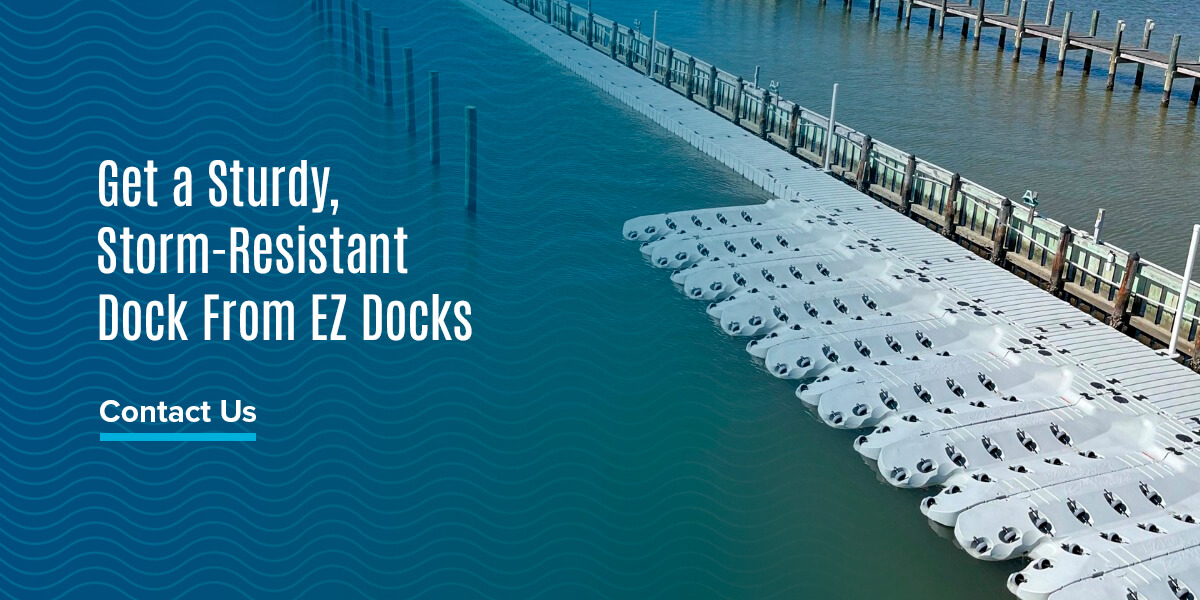 Preparing for a hurricane can be stressful, especially if you've never had to secure your boat and dock for such a storm. At EZ Docks Florida and Paradise Coast, we know that keeping your boat and dock safe gives you peace of mind. That's why our low-maintenance modular floating docks are perfect for Florida boaters. Our docks are made to last and come in custom designs and variations that fit your needs. The best part is — they can easily come apart for you to quickly store in advance of an impending hurricane.
We can also assist you with add-on dock parts, boat lifts and repair services to make hurricane preparation and cleanup as worry-free as possible. We also offer dock storage services, so you can store your dock with us and keep it safe from the elements. Browse our floating dock products online or contact us today to learn more about our solutions.