Gangways offer convenient, safe access to your waterfront, boat or dock and allow you to cross safely over unstable areas. Getting onto boats and floating docks can be challenging, especially for children or people with mobility difficulties. Adding a gangway makes your waterfront safer and easier to cross. With a stable path from your watercraft to the shore, you can easily unload objects and make your waterfront experience as convenient as possible.
Knowing how to figure out what size and design gangway or ramp you need to access your waterfront will help you narrow down your search. You can evaluate your options quickly and pick the best one for your needs. You'll want to consider shorelines, materials, length and add-ons when exploring different types of gangways.
How to Choose a Gangway
Most gangway styleslook similar — they're designed for function and durability to ensure safety when used. Finding the right gangway design is about fitting the gangway to your needs. A gangway needs to withstand traffic and weathering. It should have features that accommodate your preferences. Gangways have to fit well with your existing setup so they work correctly, and you don't have to spend money adjusting your existing waterfront components.
You'll want to use the following steps when choosing your gangway. They'll help you understand what you want out of your gangway and will provide you with a good idea of what you're looking for. Prepping for your gangway search will save you time and help you avoid purchasing the wrong gangway for your needs.
1. Inspect Your Shoreline
Your shoreline will affect the gangway you choose. The rougher your shoreline, the more likely you are to need a sturdy, long gangway. Rocky, uneven shorelines are challenging to cross, especially when carrying supplies. If you need to cross riprap to get to the shoreline or dock, having a gangway will make getting to the water much easier and safer. The rougher your terrain, the bigger the gangway you'll need to keep your path to the water safe.
You probably don't need a long or large gangway if your shoreline is primarily sandy and even. A smaller gangway that gets you to the dock or boat is all you need if your shoreline is easy to navigate. If you only need a short distance covered, consider getting a ramp instead of a gangway for your waterfront. Ramps are also convenient, but they are not always as stable as gangways. Gangways will usually have railings to help with safety, while ramps typically have open sides.
2. Choose Your Material
Wood, aluminum and polyethylene are the three most common gangway materials. All three offer good stability, but they differ in looks and durability. Picking the right material will help you get the most out of your investment and affects how long your gangway lasts.
You don't have to deal with corrosion if you're near freshwater. However, gangways near saltwater will be exposed to lots of corrosion-causing conditions and abrasions. Picking a corrosion-resistant material will protect your gangway from heavy saltwater damage.
Let's compare these gangway materials:
Aluminum: Marine-grade aluminum alloy is highly resistant to rust and corrosion, making it fantastic for gangways. It's strong, durable and lightweight, making it easy to work with. Bolted-in handrails make these gangways extremely safe, and they'll withstand regular waterfront wear.
Polyethylene: Polyethylene is just as durable as aluminum, but it won't absorb heat like metal. It resists impact damage, corrosion and warping. Instead of welded handrails, polyethylene gangways have modular sections and attachment hardware. These components will sit firmly in place while allowing you to change up your gangway's look whenever you want.
Wood*: Wood is a classic, natural material. Wood needs treating before you can turn it into a gangway. Otherwise, it will rot and splinter quickly. Wood gangways are great for short-term gangways or smaller, less-used properties, but wood requires some upkeep to maintain its integrity. Weather and water will eventually cause rot, and you'll need to repaint and repair your wood gangway as needed. *Wood is only available in our New Jersey locations.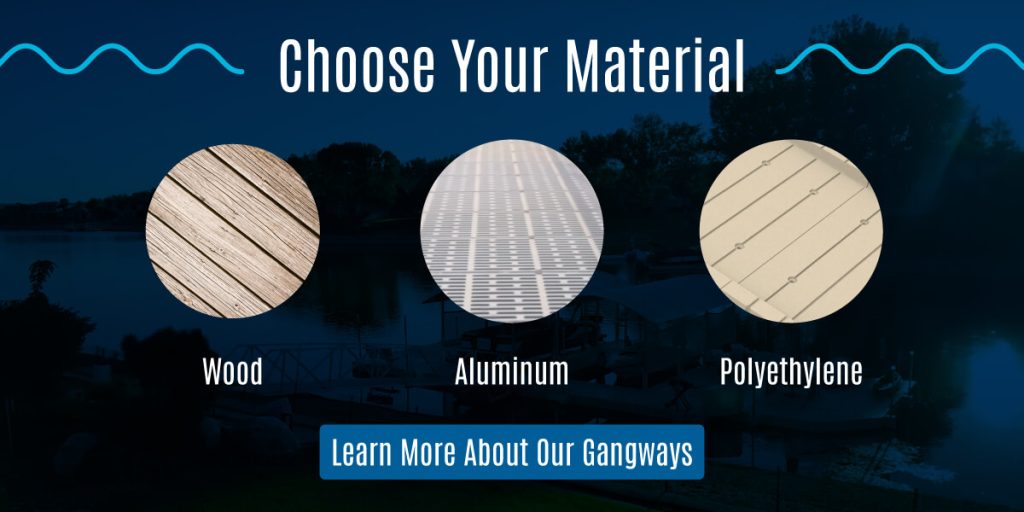 3. Select a Length
You'll need the right gangway length to make your waterfront as accessible as possible. Consider your shoreline and carefully measure the distance you want our gangway to cover. Choosing the right length is essential — without enough gangway, your dock won't be as accessible as it needs to be.
Your preferred material might also affect the gangway length you choose:
EZ Dock polyethylene docks come in sections that are 10 feet long, 39 inches wide and 8 inches tall. You can attach multiple sections to achieve a longer length, but you are limited to 10′ increments.
EZ Dock aluminum docks can be customized to achieve various lengths and widths as needed.
Many local governments have regulations on waterfront additions. You'll want to check local regulations to ensure your gangway features are within regulation. Some areas require gangways to have handrails and lights, especially if they're used commercially.
4. Include Features and Add-ons
Additional features can make your gangway even more convenient and comfortable to use. Roller kits and mounting kits make your gangway more stable, while transition kits make your gangway more accessible. Railings make your gangway easier to walk on, while heat-resistant materials like polyethylene are incredibly comfortable to walk on, even during heat waves.
Consider installing lights to illuminate your gangway and dock at night. You'll have an easier time seeing where you're going, making walking on the gangway safer when natural light levels are low. Slip-resistant materials are an excellent idea for any gangway — water makes any surface easy to fall on, and slip resistance helps protect you and visitors from falls and injury. Also, learn how to winterize your dock and gangway to protect them through the winter. Freezing temperatures can damage gangways and make them unsafe to use.
Get High-Quality Gangways From EZ Dock
EZ Dock is a leader in floating dock and port systems. Our highly durable, slip-resistant, heat-resistant polyethylene helps keep docks and gangways safe through years of weathering and use. EZ Dock aluminum and polyethylene gangways are engineered for maximum safety and stability, making your shoreline as accessible as possible. Reduce the stresses and challenges of getting onto your dock or boat with a strong, stable gangway.
Whether you need a lasting, floating dock or want to invest in a durable port for your watercraft, EZ Dock has everything you need. Our products are unmatched in environmental consciousness, strength and convenience. If you want to elevate your waterfront experience, request a quote with us today!