Docking and dining is a convenient option at many waterfront restaurants. If you're boating in South Florida and want to eat or grab some drinks, here are some of the best waterfront restaurants to dock at. Space and availability may vary so make sure to call ahead and confirm with the restaurant directly!
10 Restaurants on the Florida Gulf
If you're boating in the Florida Gulf, consider choosing a dock & dine restaurant for your next meal.
1. Dry Dock Waterfront Grill — Longboat Key, Florida
Dry Dock Waterfront Grill is a premier dining experience. From linguine pasta and tacos to seafood and sandwiches, Dry Dock's menu offers something for everyone. The open-air dining area allows visitors to enjoy sunset views throughout the restaurant.
2. Mar Vista Dockside Restaurant and Pub — Longboat Key, Florida
Mar Vista is full of rich history and focuses on maintaining an "old Florida" authenticity. This dock-and-dine destination offers guests a private beach and various outdoor dining options. Mar Vista is a destination where you could easily spend hours simply enjoying the environment, company, drinks and food.
3. Marina Jack — Sarasota, Florida
Marina Jack features a patio and lounge, dining room and bar for the ultimate waterfront dining experience. Their menu features award-winning wines and the finest seafood, steaks and pasta. Marina Jack offers daily live music and entertainment, and their staff ensures your experience is nothing short of exceptional.
4. The Dock at Crayton Cove — Naples, Florida
Since opening in 1976, The Dock at Crayton Cove has continuously offered fresh food and stunning views. Just recently voted "Best of the Gulf Shore 2023", The Dock proudly specializes in meals made with flavors and ingredients that reflect Florida's cultural history. Their menu features an outstanding wine list and plenty of brunch, lunch and dinner options.
5. Boathouse Tiki Bar and Grill — Fort Myers and Cape Coral, Florida
With two waterfront locations, Boathouse Tiki Bar and Grill is a popular destination for tourists and locals alike. Both sites feature live music daily, and happy hour runs from 11 a.m. to 6 p.m. every weekday. The various sandwiches, burgers and seafood entrées on their menu ensure there's something for everyone. Be on the lookout for some of their special events at each location!
6. The Original Shrimp Dock Bar and Grill — Fort Myers, Florida
The Original Shrimp Dock Bar and Grill is one of Fort Myers' top destinations for live music and food. They serve everything from seafood sandwiches and burgers to pizza and pasta and host events throughout the week and year, including piano duels and car shows. Additionally, docking is easy here, thanks to floating docks and the help of a dockmaster.
7. Doc Ford's Rum Bar and Grille — Fort Myers, Florida
While Doc Ford's has many locations, the Fort Myers Beach restaurant is one of the best waterfront destinations in the area. Surrounded by commercial fishing and shrimp boats, Doc Ford's Rum Bar and Grille offers unforgettable views whether you're dining indoors or out. Doc Ford's specializes in fresh, local seafood and Caribbean Rum flavors for a unique and exciting dining experience.
8. Salt Rock Grill — Indian Shores, Florida
If you're looking for a fine dining experience in an exceptional location, dock and dine at Salt Rock Grill. Enjoy their USDA-grade beef, freshly caught seafood, extensive wine cellar and raw bar with views overlooking the intercoastal waterway.
9. Seabreeze Island Grill — Redington Shores, Florida
Island-style cuisine and drinks complement the stunning views from Seabreeze Island Grill. Enjoy a variety of land and sea meal options with a waterfront view from every window in the restaurant!
10. Gather — Cape Coral, Florida
Regarded as a hidden gem in Cape Coral, Gather's chic and modern lounge stands out. Located at the Tarpon Point marina, this spot not only boasts stunning views but also a popular weekend brunch menu, house-made pasta, and photogenic drinks.
10 Restaurants on the Atlantic Coast of Florida
Looking for a dock-and-dine restaurant along Florida's Atlantic coast? Consider one of these restaurants.
1. Boater's Grill — Key Biscayne, Florida
Boater's Grill is a unique waterfront restaurant. Serving authentic Cuban cuisine for over 20 years, this hidden gem offers a wide variety of seafood, fish, pasta, meats and more. This area is popular among boaters and gives visitors a one-of-a-kind experience and view.
2. The Rusty Pelican — Miami, Florida
Thanks to its sophisticated yet glamorous environment, The Rusty Pelican has become a Miami hotspot for tourists, locals and even celebrities. Enjoy views of the city's skyline while dining from one of the most innovative menus available. With special experiences like music and fire dancers, the food is only the beginning here.
3. Casablanca on the Bay — Miami, Florida
With over 20 years of commercial fishing experience, Casablanca on the Bay offers fresh, delectable seafood dishes. Waterfront dining areas overlook Biscayne Bay, creating an ideal location and atmosphere for date night or family dinner.
4. Boatyard — Fort Lauderdale, Florida
Recently reinvented, Boatyard offers a laidback waterfront dining experience that embraces the yacht and marina culture. The menu is seafood-centric, featuring fresh, daily catches and premium meats. Choose to enjoy your meal in indoor, outdoor or dockside dining areas.
5. 15th Street Fisheries — Fort Lauderdale, Florida
You can make reservations for the upstairs dining space with panoramic views or dine dockside at 15th Street Fisheries. The waterfront experience at the Fisheries offers fresh, authentic food and features views of the Lauderdale Marina, one of the city's famous landmarks.
6. Boathouse at the Riverside — Fort Lauderdale, Florida
Boathouse at the Riverside proudly serves its Mediterranean-inspired menu alongside waterfront views. The atmosphere at this destination is unmatched, with a tropical fish tank, lush patio, large bar and pool area. Whether you're interested in dining poolside or chatting over cocktails, you'll find an ideal atmosphere here.
7. Pirate Republic — Fort Lauderdale, Florida
As seen on Food Network's "Diners, Drive-Ins and Dives," Pirate Republic has become a popular destination for travelers worldwide. You'll find unexpected flavors and new favorites at this waterfront restaurant, featuring original and unique seafood recipes.
8. Deck 84 — Delray Beach, Florida
Deck 84 offers casual waterfront dining with menu options to please everyone. You can enjoy anything from local seafood to beef burgers with a spectacular view of the Intercoastal Waterway. If you bring your catch with you, the chefs at Deck 84 will even cook it for you!
9. Sailor's Return — Stuart, Florida
With 930 feet of free docking space, Sailor's Return provides ample room for boaters to enjoy delicious cuisine in a tropical harbor. You'll be sure to have a memorable dining experience at this restaurant known for its seafood, steaks, spirits and sunsets.
10. Prime Catch — Boynton Beach, Florida
Recognized as one of the first upscale restaurants to the Boynton Beach area, Prime Catch offers an extraordinary waterfront dining experience. Indoor and outdoor spaces feature water views from each table and the bars offer happy hour prices twice every weekday.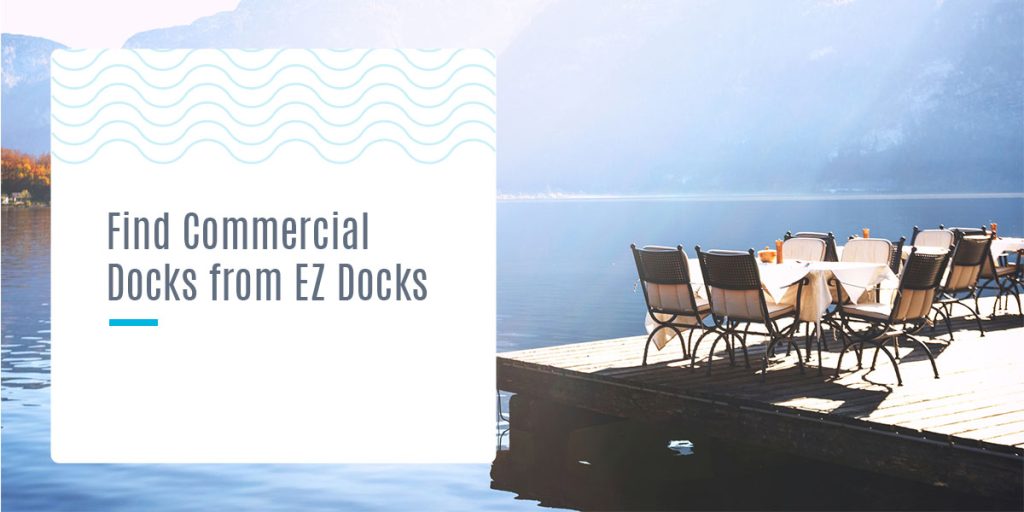 Find Commercial Docks from EZ Docks
Our commercial docks enable restaurants to provide a slip-resistant, modular floating dock for customers to access the restaurant from the water. Whether you're thinking of opening your own waterfront restaurant or have other commercial docking needs, we can help you make the most of your business's waterfront location. Contact us to learn more about our products!